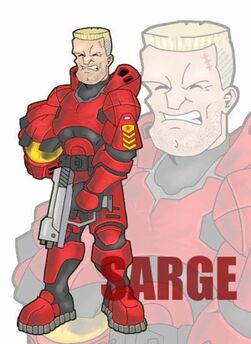 Sargeant "Sarge" is a member of the Shadow Moses guard team, and captain of the guard, though he prefers the name "Sargeant of the Guard."
Little is known about Sarge's life, except for the fact that he had fought in fifteen wars, and started 10 of them just to stay in practice. He joined Shadow Moses in desperation during his midlife crisis.
Ad blocker interference detected!
Wikia is a free-to-use site that makes money from advertising. We have a modified experience for viewers using ad blockers

Wikia is not accessible if you've made further modifications. Remove the custom ad blocker rule(s) and the page will load as expected.